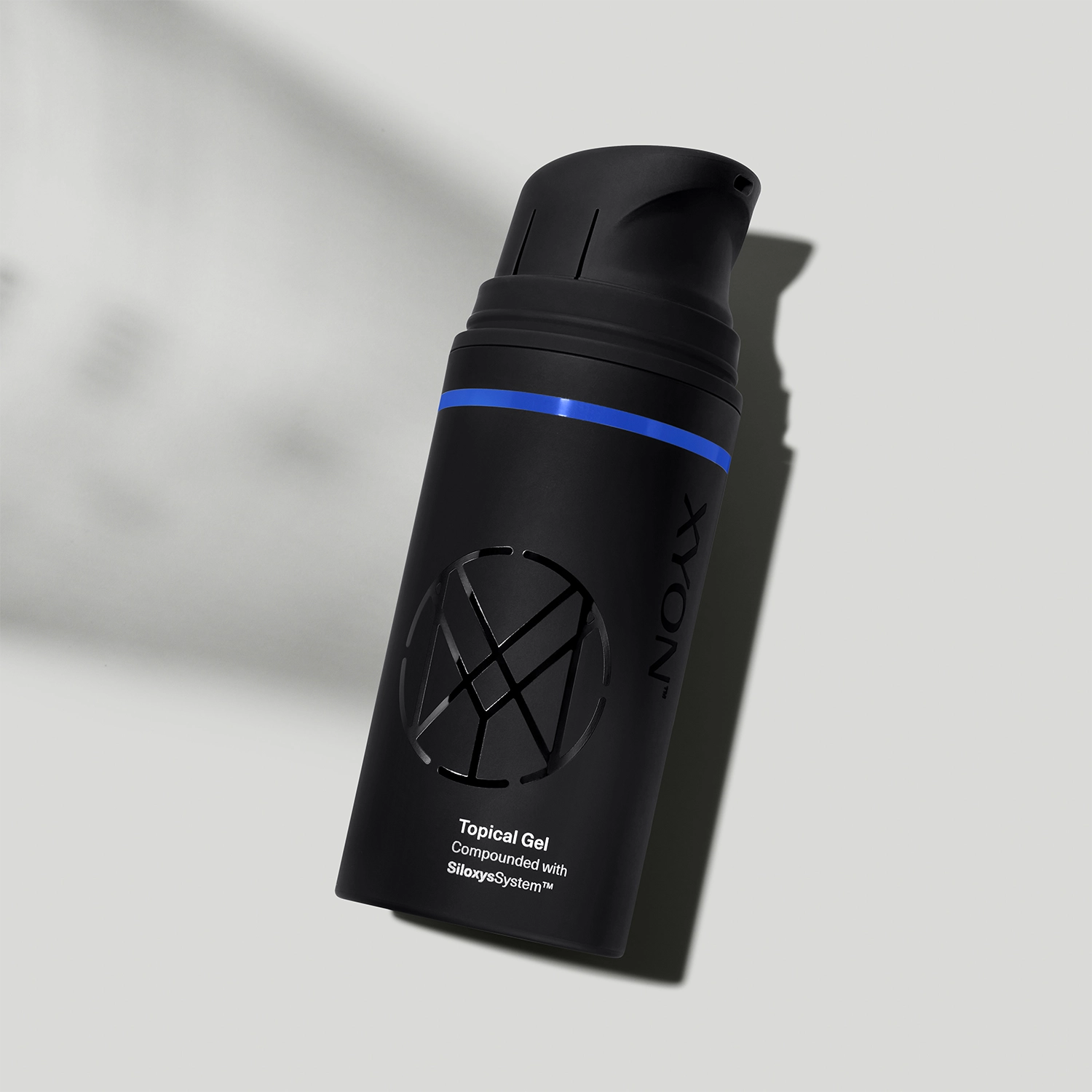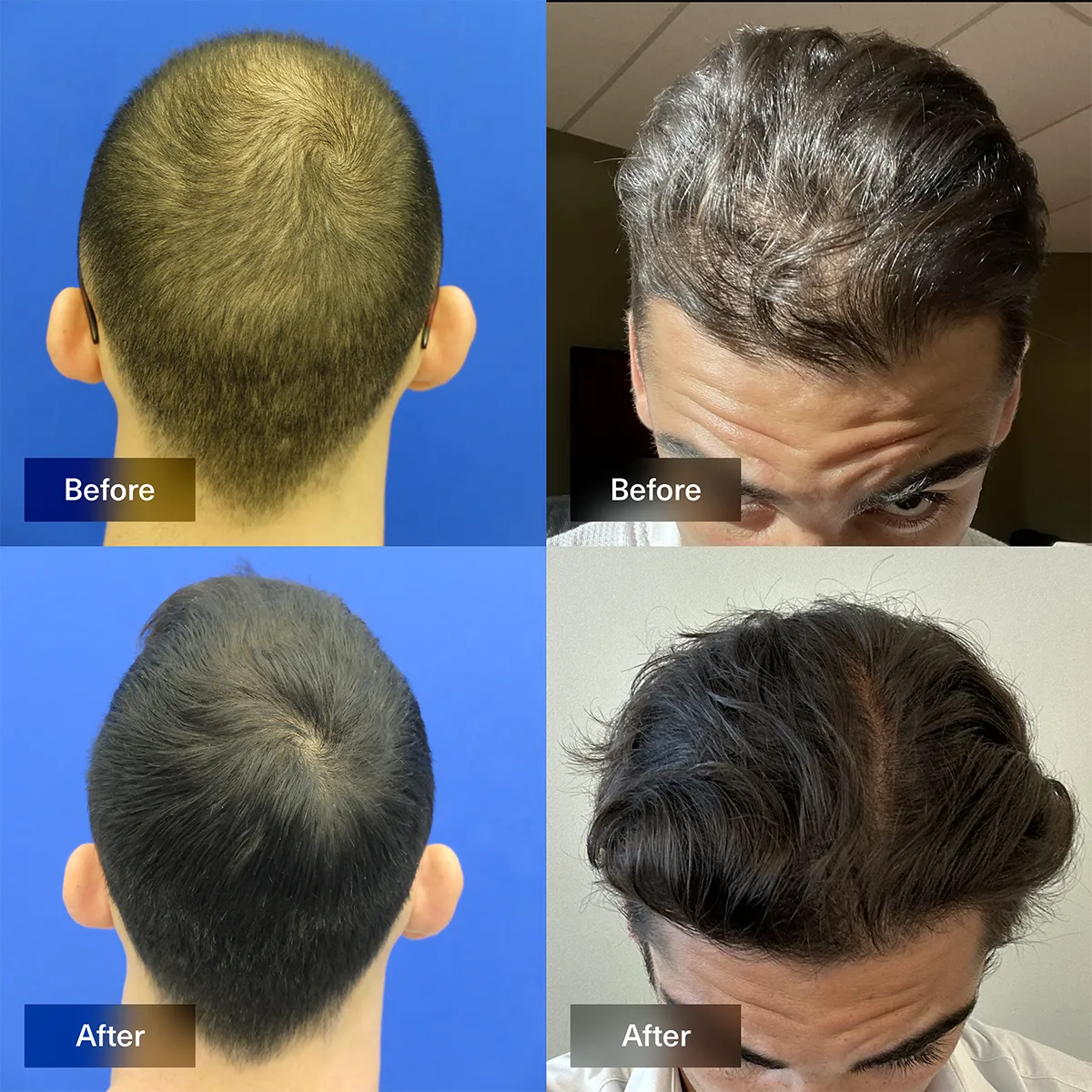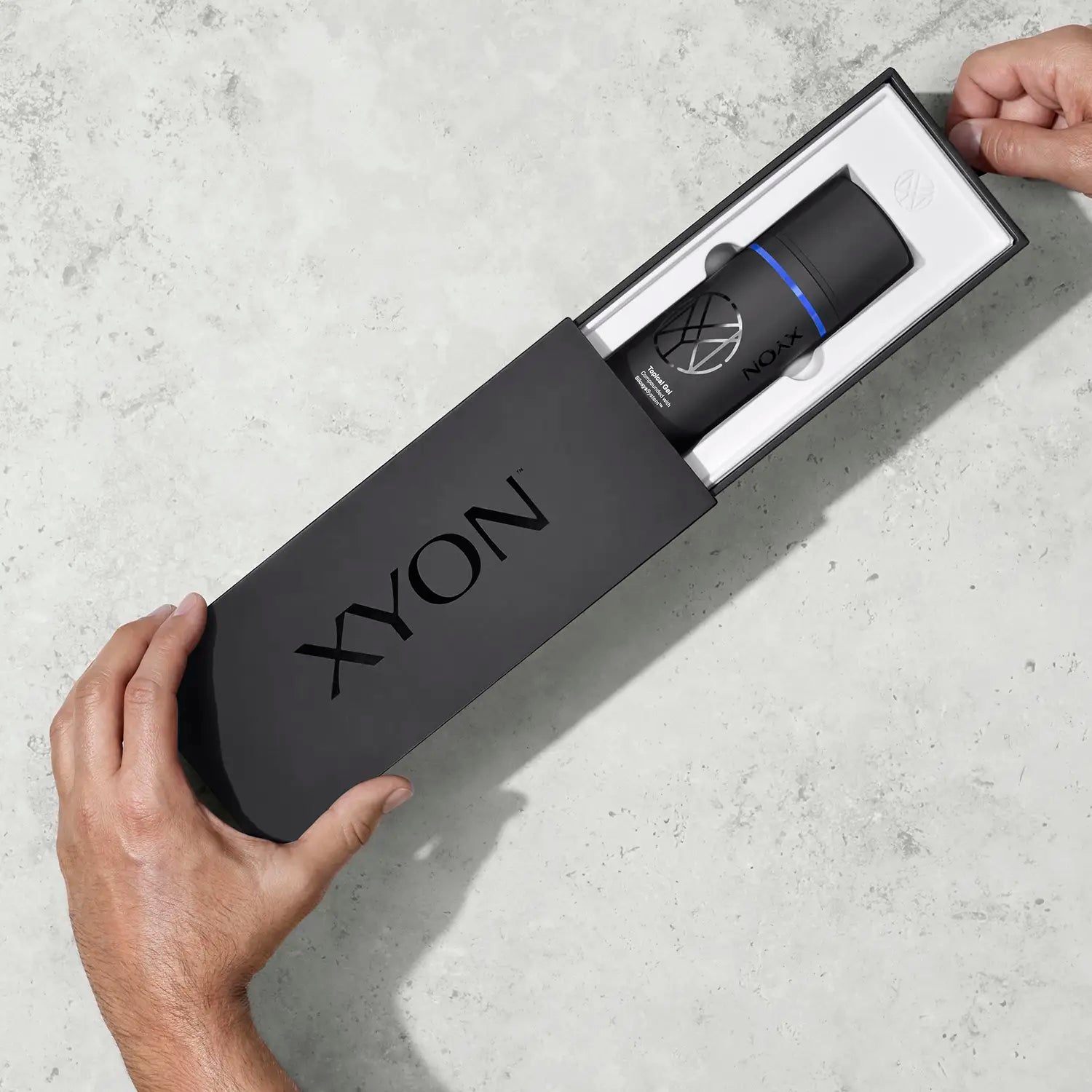 Topical Dutasteride
Topical dutasteride from XYON stops thinning hair in its tracks and promotes hair regrowth. Formulated with dutasteride, clinically shown to be effective in treating hair loss. Delivered using an advanced doctor-formulated, timed-release gel designed to minimize absorption of medication into the body and lower the risk of sexual side effects of dutasteride. Dermatologist tested.
Dutasteride is a potent medication that lowers levels of DHT, a hormone widely considered the primary cause of hair loss and balding in men. Compounded in an innovative gel designed to help target hair loss treatments to hair follicles and reduce side effects.
Dutasteride: : Lowers DHT, a cause of hair loss in men. It's a type of medication called a 5-alpha reductase inhibitor.

SiloxysSystem™ Gel: Patented gel designed to maximize results and minimize absorption of medications into the body, potentially lowering the risk of side effects.
How to Access a Prescription

Start a complimentary virtual consultation to get assessed by a specialist physician.

A doctor will review your profile to determine your eligibility.

If a treatment is prescribed, we'll deliver it in discreet packaging directly to your doorstep.
* This page was medically reviewed by Dr. Christina Han, MD FRCPC.
* Topical dutasteride is a compounded medication and has not been approved by the FDA. Only available if prescribed after an online consultation with a licensed healthcare provider.
Safety Information
Before you start using dutasteride and each time you get a refill, please review this important safety information. This information may be updated. It does not replace discussing your medical condition or treatment with your doctor or healthcare provider.

What is the FDA approved use of dutasteride?
Dutasteride is FDA approved as an oral medication to treat benign prostatic hyperplasia (Proscar) in men. Dutasteride has not been FDA approved for topical use or specifically for use in women, but it may be prescribed off-label in topical compounded formulations for hair loss.

You can read more about some of the study data on dutasteride use in women by visiting this link:
Adverse effects and safety of 5-alpha reductase inhibitors finasteride and dutasteride: A systematic review.
What is topical dutasteride?
Topical dutasteride is a compounded prescription medication used for the treatment of male and female pattern hair loss (androgenetic alopecia). This compounded treatment is not approved by the FDA and is only available if prescribed after an online consultation with a licensed physician through the XYON Health platform. Data from small scale and case studies have shown that topical dutasteride may help reduce serum DHT levels with a lower incidence of side effects (e.g., sexual dysfunction) that have been reported with the oral versions of this class of medications.

What should I tell my healthcare provider before taking dutasteride?
Please inform your doctor or healthcare provider if any of the following apply:
You have a personal or family history of prostate cancer, breast cancer
You have prostate or urinary symptoms such as reduced urine flow, difficulty urinating or pain
You have a history of liver or kidney disease or dysfunction
You have a history of any serious mental health conditions
You are pregnant, trying to get pregnant, or are breastfeeding

Who should not take dutasteride?
You should not take dutasteride if you:
Have ever had an allergic reaction to dutasteride or any other ingredients in the treatment
Have a history of liver disease or dysfunction
Dutasteride should not be used by women who are pregnant, may be pregnant or are breastfeeding
Dutasteride should not be used by infants or children

What are the possible side effects of dutasteride?
The following side effects have been reported with dutasteride use:
Breast tenderness and enlargement. You should inform your doctor or healthcare provider if you notice any breast lumps, pain or nipple discharge
Depression, anxiety, brain fog, suicidal ideation
Decrease libido (sex drive)
Allergic reactions (e.g., rash, itching, hives and swelling of the lips, tongue, throat, and face)
Problems with ejaculation
Testicular pain
Erectile dysfunction (difficulty achieving or maintaining an erection)
Male infertility and/or poor semen quality
Please note that dutasteride has only been formally studied in male patients so the side effect profile above is specific to clinical studies in men.

Preliminary data on the use of dutasteride in female patients has shown the following possible side effects:
Decreased libido (sex drive)
Breast tenderness and enlargement
Mood changes (e.g., depression)
Fatigue
Muscle soreness
Weight gain
There is some evidence that dutasteride can increase the risk of some breast and prostate cancers. When used off label in a topical form, systemic side effects of dutasteride are expected to be less frequent/severe, although no formal clinical studies have been done to confirm the safety and efficacy of topical dutasteride. The following is a list of possible side effects associated with the use of topical dutasteride:
Itching
Irritation
Dry and flaky scalp
Increased scalp oiliness
The above does not represent all potential side effects, medication interactions or study data relating to the safety of dutasteride. It is important to talk to your doctor, healthcare provider and/or pharmacist if you are experiencing any side effects. If you are experiencing a medical emergency or allergic reaction, call 911 or seek immediate medical attention. You are encouraged to report negative side effects of prescription products to the FDA. Visit www.fda.gov/medwatch or call 1-800-FDA-1088.
You can refer to the FDA prescribing information as well as the Prescriber's Digital Reference (PDR) for comprehensive overviews of dutasteride.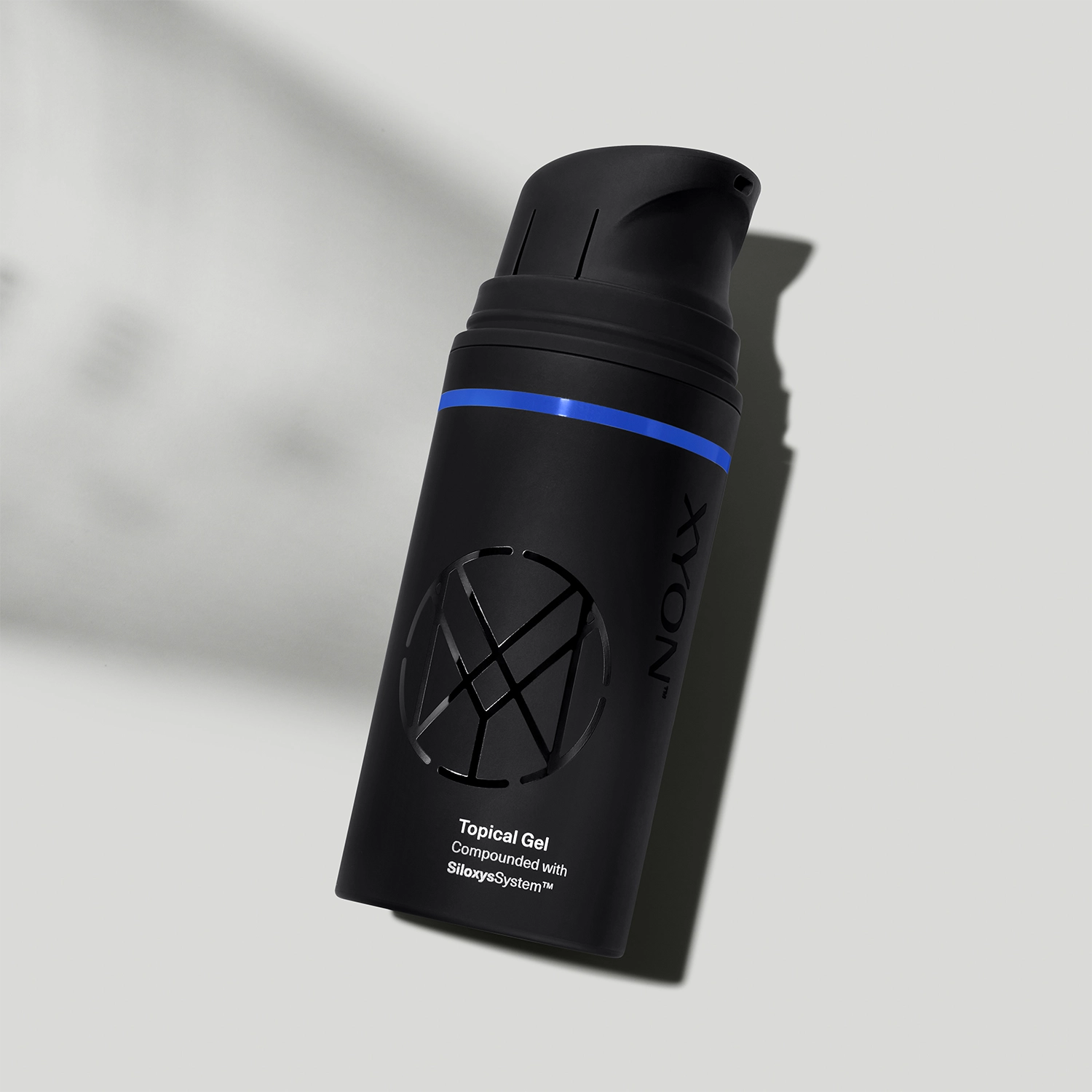 Clinical expertise meets cutting-edge technology.
A Topical Formulation Unlike Any Other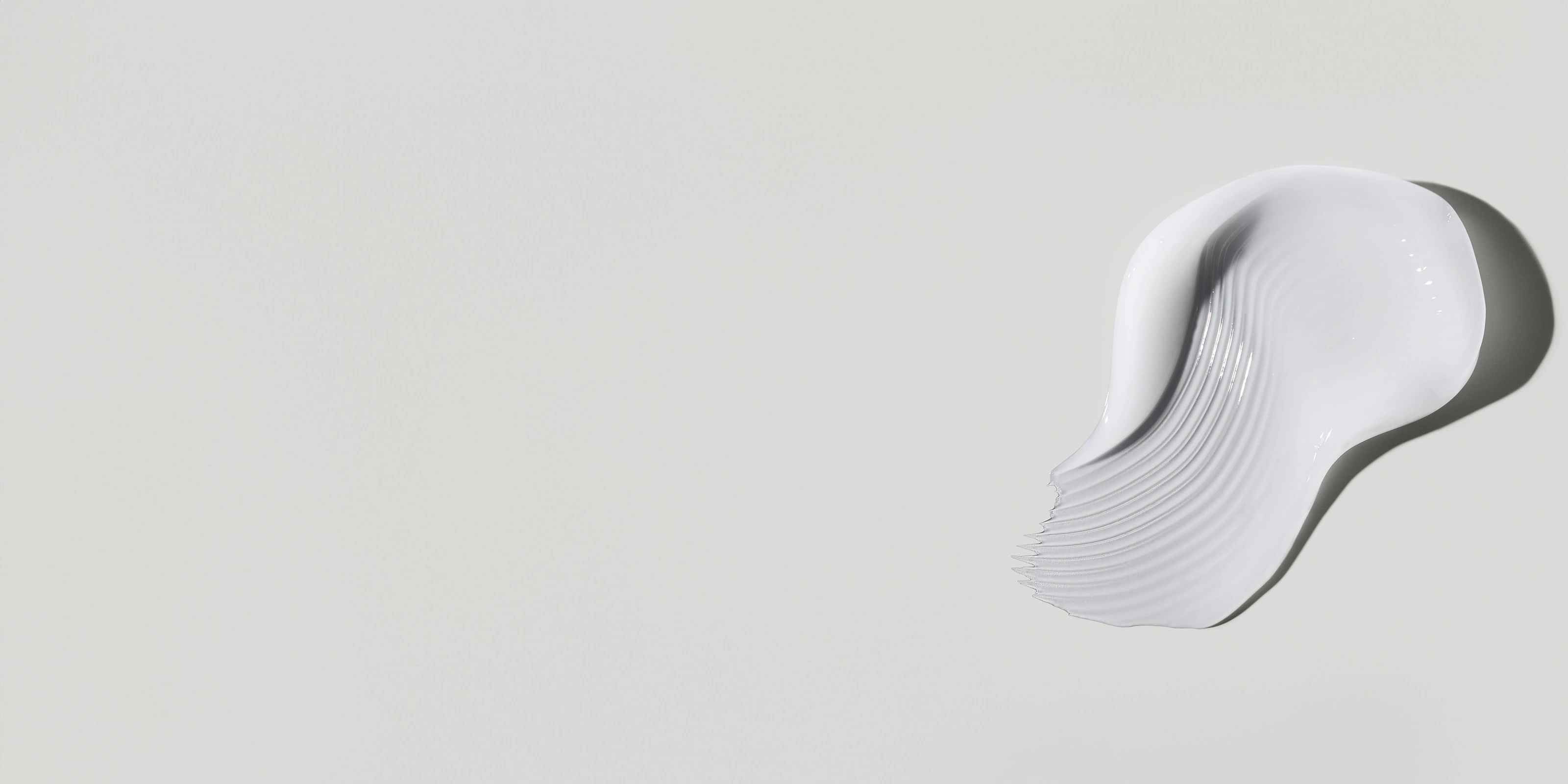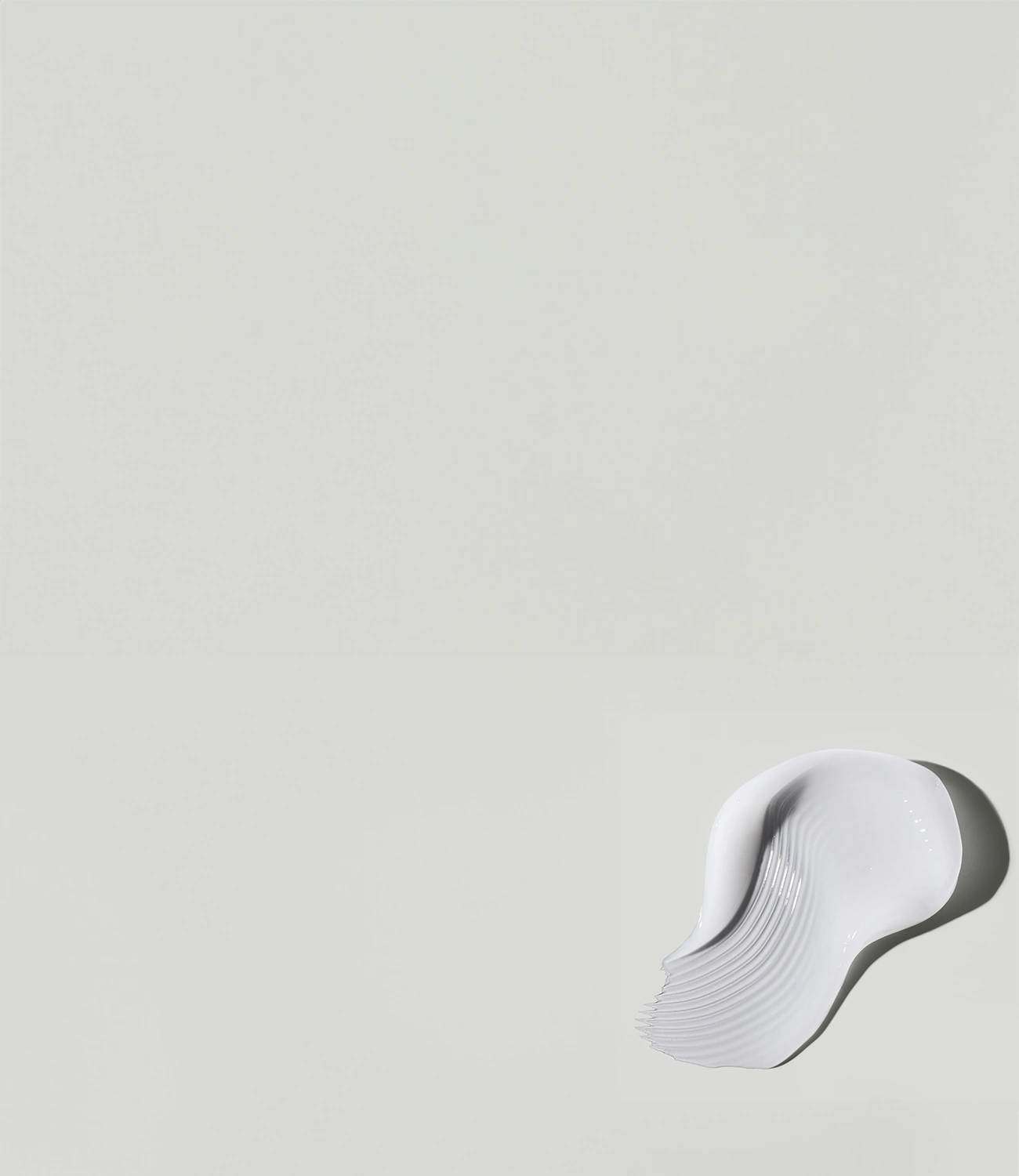 US Pat. no. 11,786,466
SiloxysSystem™ Gel
Our very own patented gel delivery system sets the new standard for managing hair loss. Uniquely designed to deliver medications slowly and over time and limit their absorption into the body. It's designed as a safer way to treat hair loss.
Learn About SiloxysSystem™
Real Patients. Undeniable Results.
Topical Dutasteride Results: Before and After
See topical dutasteride regrowth results that members of the XYON community have achieved with our range of performance hair loss solutions.
XYON Reviews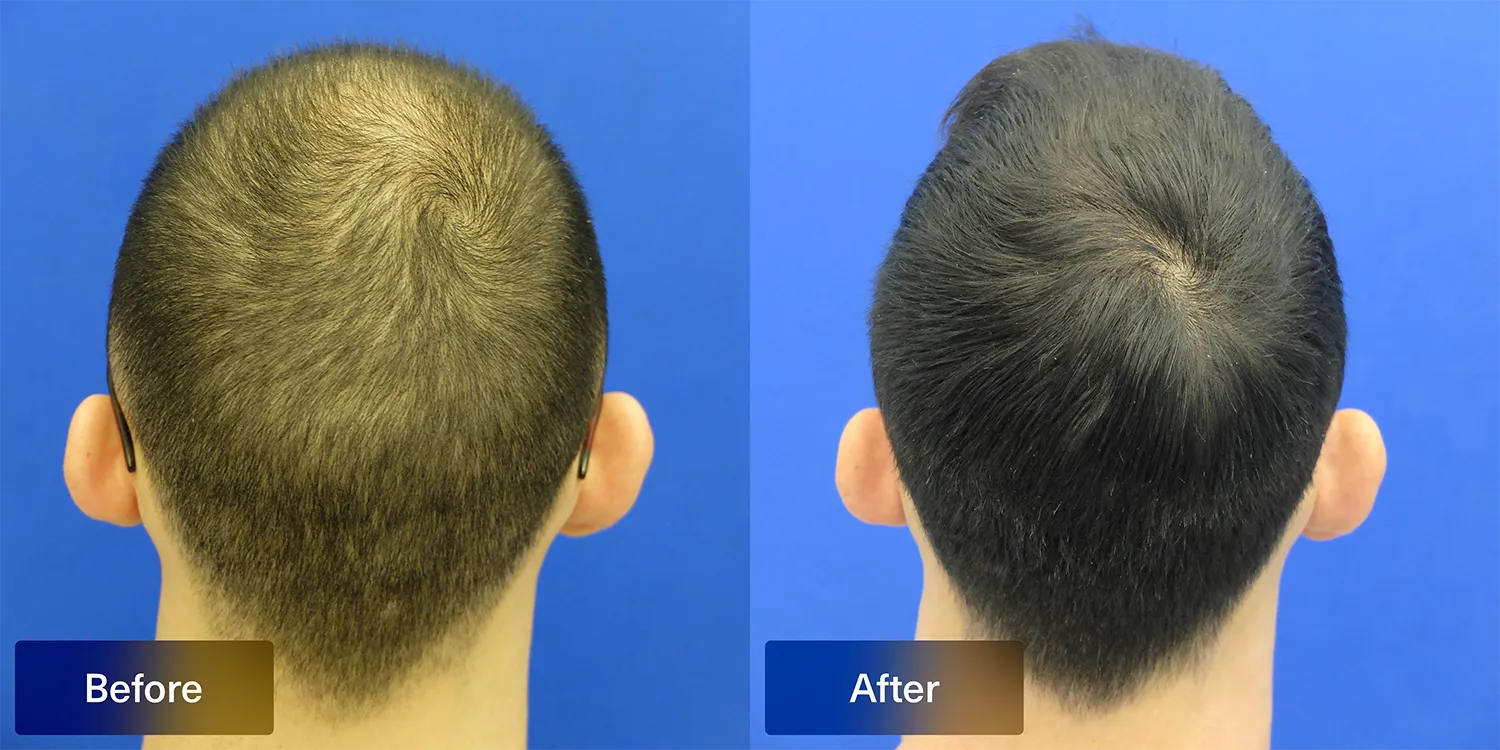 Norwood Scale (Hair Loss Type)
7 with diffused pattern alopecia
28 years old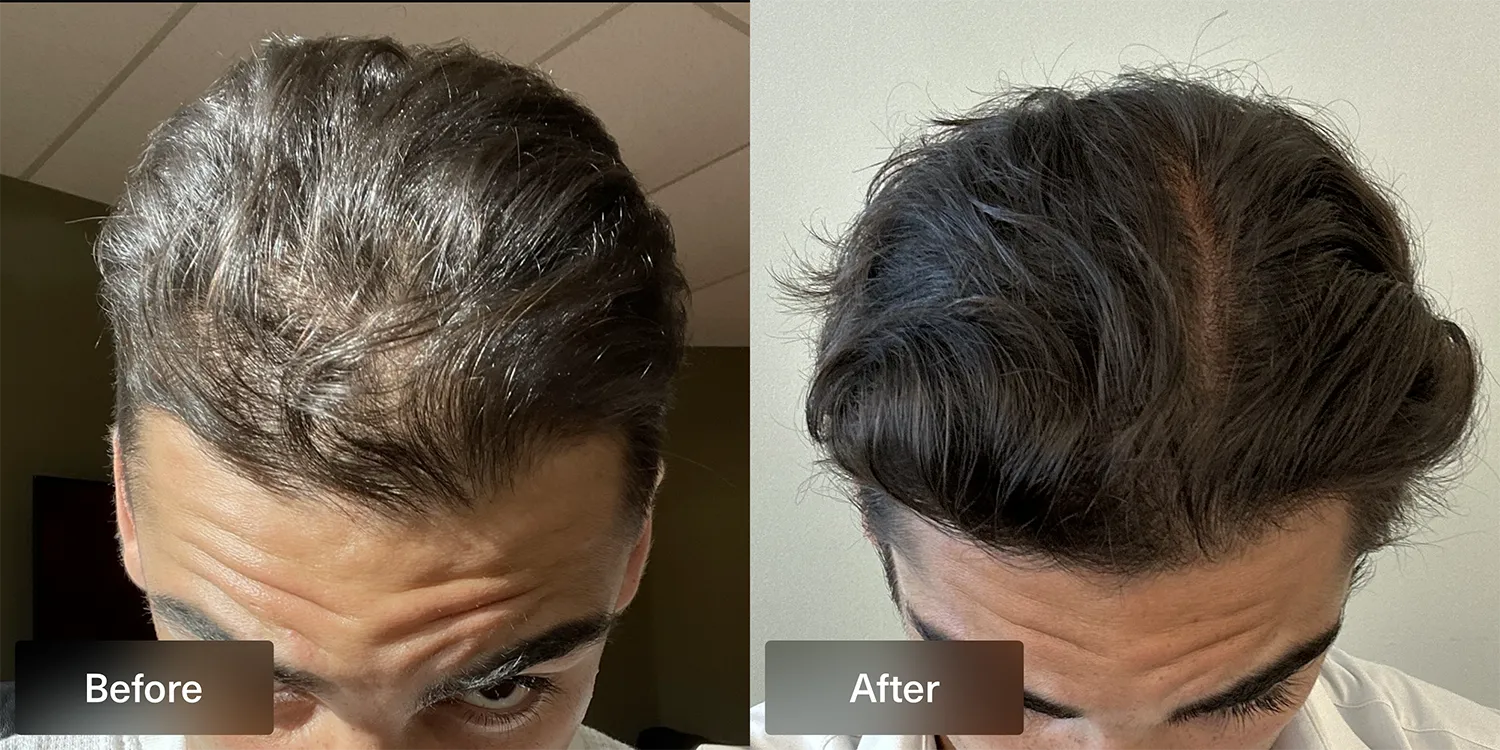 Norwood Scale (Hair Loss Type)
3
26 years old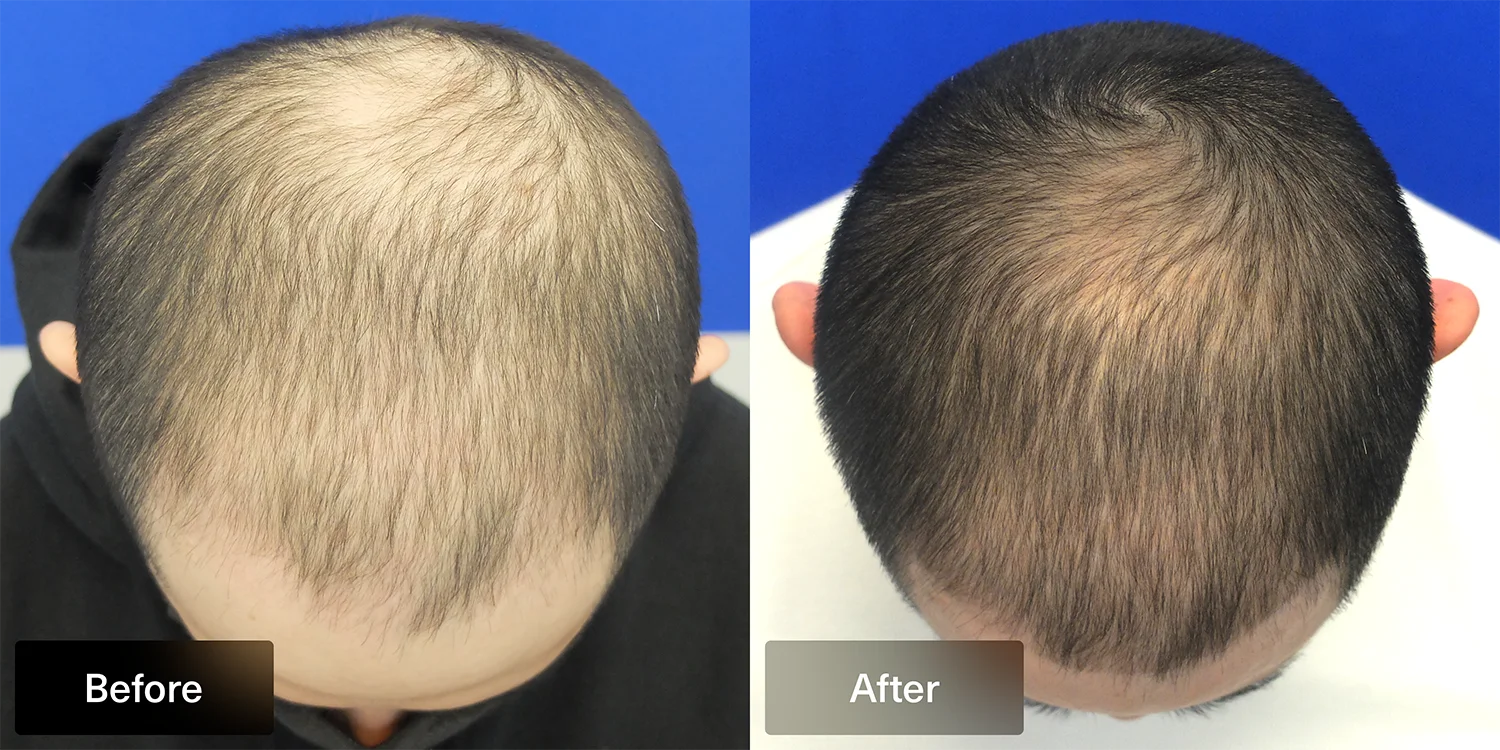 Norwood Scale (Hair Loss Type)
5 with diffused pattern alopecia
28 years old
How Does Topical Dutasteride Treat Male Pattern Hair Loss?
Dutasteride treats hair loss by protecting hair follicles from the effects of DHT (Vano-Galvan et al., 2019). It's a potent blocker of the 5-alpha reductase enzyme, which is involved in converting testosterone into DHT. Compared with finasteride which only blocks one form of the enzyme, dutasteride blocks two forms. This can result in DHT reductions as high as 90% (Thomson, 2005).
Does Topical Dutasteride Work for Men?
Clinical data has shown that topical dutasteride and oral dutasteride may be effective options for treating pattern baldness in men.
86%
men taking dutasteride experienced an improvement in BASP classification (a tool used to assess severity and type of hair loss).
100x
more potent at blocking one type of the 5-alpha reductase enzyme compared to finasteride.
20%
increase in hair thickness after just 6 months of treatment with dutasteride.
A Premium Solution Exclusive to XYON.
Technology Designed to Reduce Dutasteride Side Effects
Dutasteride has emerged as a potential highly effective treatment option for men experiencing pattern hair loss. However, because of its potential impact on hormone levels, dutasteride has also been associated with sexual side effects and mood changes, as well as potentially increased risk of high grade prostate cancers (Hirshburg et al., 2016). See how XYON's patented SiloxysSystem™ technology is designed to reduce the risk of systemic side effects.
Learn More About SiloxysSystem™
Safety
Targets delivery of hair loss treatments to the scalp and hair follicles, reducing medication absorption into the body.
Medications delivered in an uncontrolled way and may contain ingredients that increase absorption.
Expose the entire body to a medication. This could possibly increase the risk of side effects.
Delivery System
Timed-release technology ensures continuous administration of medication. Mess-free formula and lightweight texture.
No sustained delivery. Formulas may be messy and require several applications per day to be effective.
Pill form, taken by mouth. For those less concerned about side effects.
How To Use Topical Dutasteride
Here are some application tips to help you make the most out of your hair loss treatment.
How do I use my topical hair loss treatment?

1) Each XYON bottle has a safety lock. Turn the safety lock to the open position and press down once to dispense a pre-measured amount of treatment.

2) Focus application of the treatment on affected areas of the scalp. You may need to part your hair. Rub the gel in for 20-30 seconds.

3) You're done. You can style your hair as usual. Ensure that you wash your hands with soap and warm water after applying and/or touching the gel.
When should I apply my treatment?

Make sure to follow the dosing instructions indicated in your prescription. We usually recommend applying the gel first thing in the morning and leaving it on for approximately 8 hours. Avoid applying before bed to avoid transferring the treatment to pillows and/or sheets.
Other useful info

Missed a dose? Resume regular application as soon as possible. It's important not to double up on missed doses.

It's not uncommon for people to notice some increased shedding in the first few weeks/months after starting a new hair loss treatment. This should go away with time, but if this shedding doesn't stop or worsens, you should notify your prescribing doctor.
Visit the XYON Medical Library
Stay up to date with our curated selection of medically-reviewed articles and resources on men's health and hair loss.
Does topical dutasteride reduce hair loss?

Clinical studies have shown that oral dutasteride is an effective medication when it comes to treating male pattern hair loss. Although additional data is needed, preliminary trials on topical formulations of 5-alpha reductase inhibitors like dutasteride suggest that effectiveness is comparable. In XYON's own clinical studies, all study participants experienced at least some improvement in their hair loss while taking topical dutasteride.

It's important to understand that individuals can lose hair for various reasons and treatment options depend on the type of hair loss. Patients experiencing traction alopecia, scarring alopecia, or telogen effluvium should consult a dermatologist to determine their best treatment options. Topical Dutasteride, with SiloxysSystem™ Gel does not treat these hair loss conditions.
How long does it take to see results from topical dutasteride?

It can take several months of consistent treatment with topical dutasteride (3-6 months or more) before seeing noticeable improvements in male pattern baldness.

This timeframe can vary depending on individual factors such as age, genetics, and coexisting medical conditions. Consistent application can help maximize results.
How does Topical Dutasteride with SiloxysSystem™ Gel treat hair loss?

Topical Dutasteride, with SiloxysSystem™ Gel treats hair loss by addressing the main hormonal cause of male pattern baldness. It works by blocking the activity of type 1 and 2 isozymes of the 5 alpha-reductase enzyme. This prevents the conversion of testosterone to dihydrotestosterone (DHT), the main hormone linked to male pattern baldness and some cases of female pattern hair loss.

This treatment may help slow down or stop further hair loss and helps promote the regrowth of existing hairs.

Unlike other hair loss solutions, Topical Dutasteride, with SiloxysSystem™ Gel may also help lower the risk of systemic side effects by limiting absorption of dutasteride into the body. It may be a good option for people who are concerned about side effects.
What is SiloxysSystem™ Gel?

SiloxysSystem™ is a patented gel delivery system that has been uniquely developed to help target the delivery of clinically-proven hair loss treatments to the scalp layer containing hair follicles.

It's also been formulated to administer medications over time. By helping reduce absorption and controlling delivery, the gel is intended to help lower the risk of potential side effects.
How much dutasteride is in the treatment?

We often receive questions about the safety of the concentration of dutasteride in our topical formulations. This is a great and important question.

Our compounded topical formulations contain 2% dutasteride. Since topical dutasteride is used even less frequently than topical finasteride, there is no standard concentration or dosing frequency. To understand why this concentration was chosen, we can start by understanding the factors that impact the potency, or strength of dutasteride.

The amount of dutasteride in a formulation is one factor. The other is the vehicle, or the base in which dutasteride is being compounded. This can affect the ability of the medication to penetrate the skin.

Dr. Hasson has made SiloxysSystem™ Gel available after years of clinical experience using the vehicle in his own patients as a way to help reduce side effects. The gel combines silicone with delivery molecules called liposomes to help reduce systemic absorption. 2% dutasteride was ultimately selected because it strikes a balance between safety and efficacy. You can learn more about how this technology helps reduce systemic absorption by viewing our clinical study: Topical Dutasteride Clinical Study Results.
Can I use topical dutasteride with other hair loss treatments?

Topical dutasteride can be used with other hair loss treatments, but you may need to consider the order of application and whether dutasteride may cause a drug interaction. Certain drugs and hormonal therapies should be avoided when taking dutasteride. When in doubt, you should always consult with a doctor.
Does topical dutasteride have any side effects?

The side effects of topical dutasteride are similar to the oral medication. In general, side effects are less common with topical formulations.

The side effects of oral dutasteride include erectile dysfunction, decreased libido (sex drive), ejaculatory disorders and breast swelling and/or tenderness.


Additional side effects associated with topical formulations include irritation near the site of application. These are typically mild.

Talk to your doctor before starting topical dutasteride treatment to ensure that you don't have any medical conditions that may affect the likelihood of developing an adverse reaction to dutasteride.

You can learn more about dutasteride side effects by visiting our medical library.
What is a compounded hair loss treatment?

Compounded hair loss medications are customized topical treatments prepared by a pharmacist specifically for a patient.

The pharmacist expertly combines medications into a topical base, which allows patients to apply them directly to the scalp. It's a way of personalizing treatment because it considers medical history, lifestyle, age and other factors.

Remember, compounded treatments are not FDA-approved and require a doctor's prescription. You will need to consult with a doctor to determine if such a treatment is right for you.
What is the optimal dosage of topical dutasteride?

We often get asked about the dosage of dutasteride in our compounded hair loss treatments. The concentration of a medication that can be safely mixed into a treatment depends on several factors, including the properties of the base. Since SiloxysSystem™ Gel was specifically developed to help control and reduce absorption of ingredients into the body, the concentration of dutasteride may be higher in order to achieve the desired clinical result.
How do I get topical dutasteride?

Topical dutasteride from XYON is available in the United States and Canada exclusively through xyonhealth.com. Enter XYON's secure online platform to start a consultation to get access to a prescription.
How to Get Topical Dutasteride from XYON
Choosing XYON for your hair loss needs comes with all these benefits and more.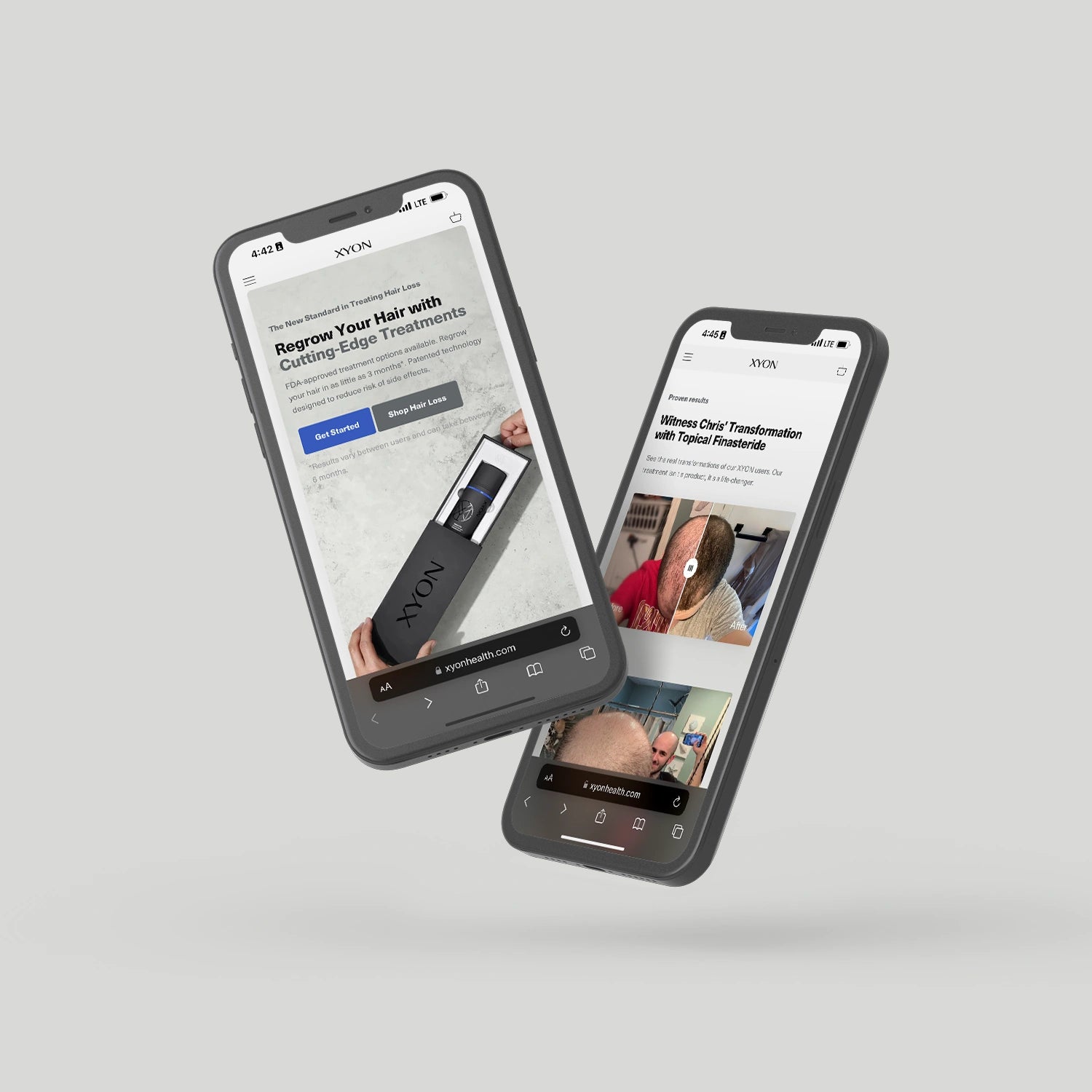 Access to Specialist Doctors
Experts are by your side. Every case is reviewed by a specialist physician. They'll use the info you provide during your intake to recommend a treatment.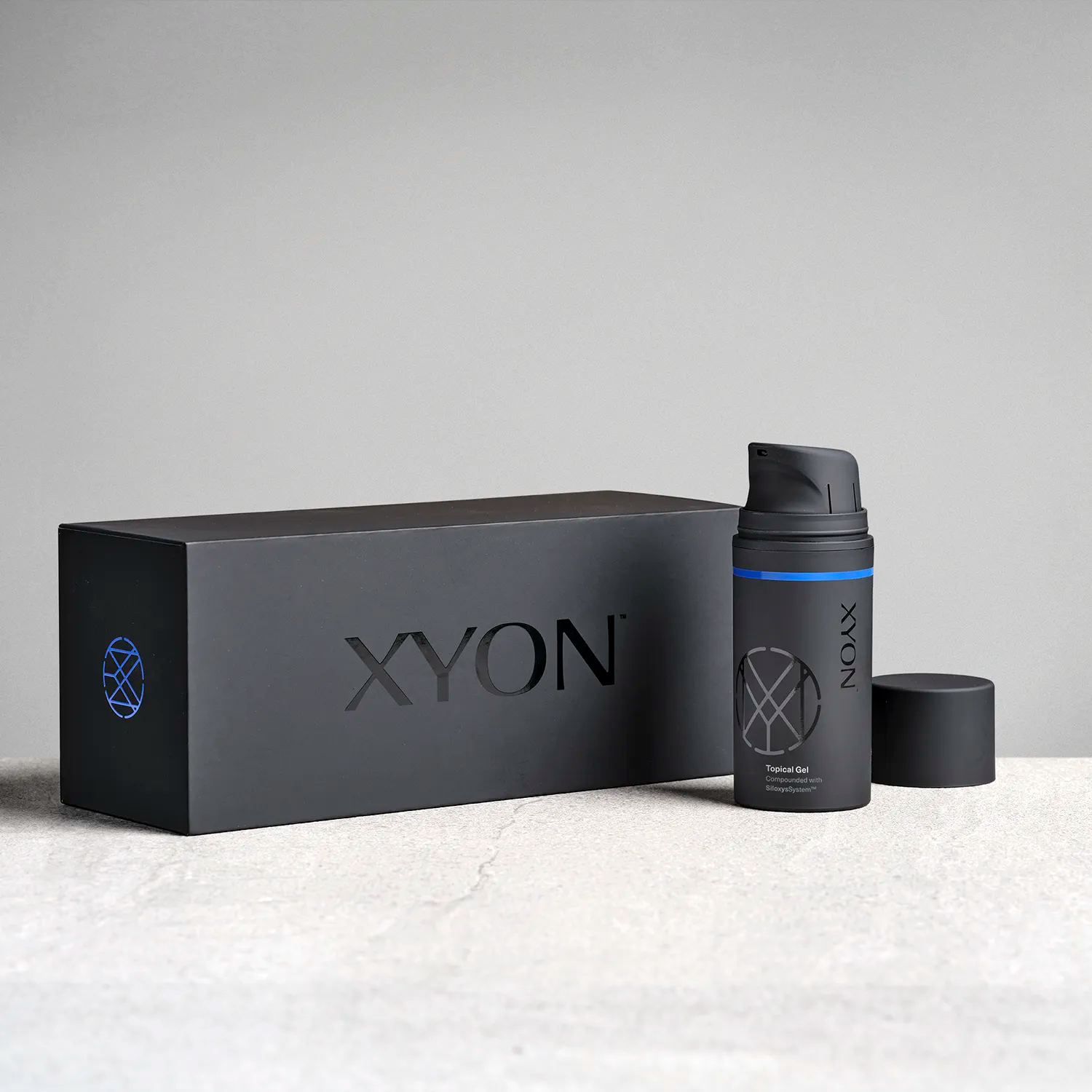 Tailored Treatments for You
Your hair loss needs are unique. We've partnered with compounding pharmacies that specialize in preparing customized solutions.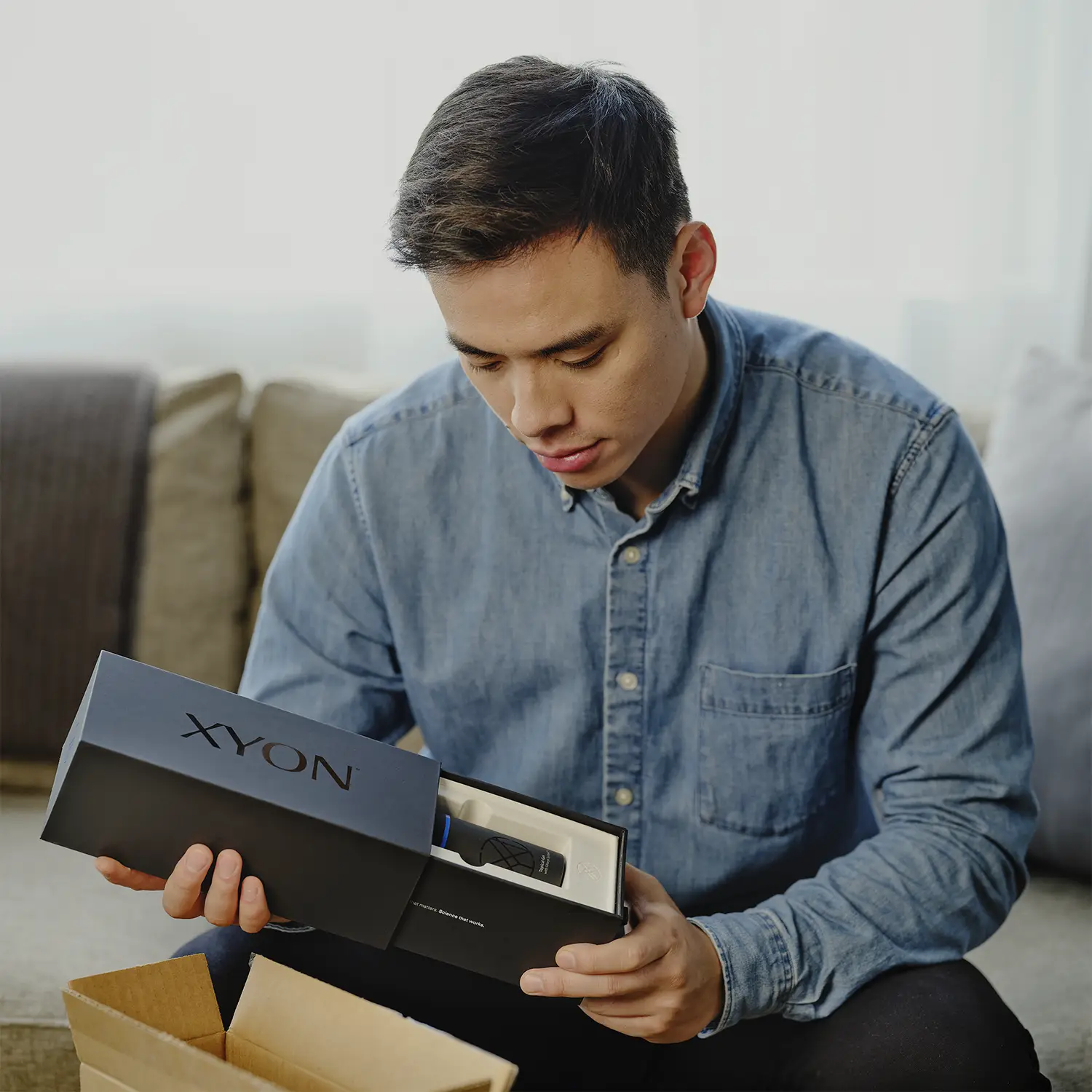 Direct to Your Doorstep
If you're issued a prescription, we'll take care of deliveries and refills. Skip the lines and spend more time on the important things.
Shop men's hair loss.
Our Hair Loss Solutions
Shop Mens Hair Loss